Research Staff
Lab Coordinators
Meera Patel (Project THRIVE) 
Full-Time Research Assistants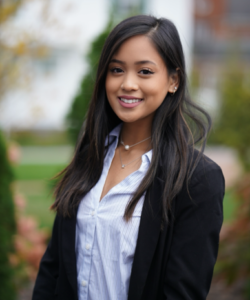 Elisa de la Fuente (Project FLIGHT)
Elisa graduated from Nazareth College in 2021 with a degree in Psychology and minors in Cognitive Neuropsychology and Communications and Media. She previously worked for Mt. Hope Family Center for Project PROMISE, and has since moved onto a full-time RA Position for Project FLIGHT. She is also the Intern Coordinator for the project.
Carson Schmitz (Project THRIVE)
Carson graduated from the University of Mississippi with a B.A. in Psychology and a minor in neuroscience. She spent her undergraduate career working as a research assistant on many different projects examining anxiety and related disorders and their relation to health complications. Carson also had the opportunity to conduct an honors thesis and examined racial/ethnic differences in anxiety sensitivity among electronic cigarette users. She hopes to one day pursue a Ph.D. in Clinical Psychology with specific interests in individual difference factors, such as racial/ethnic background and environmental stress, that contribute to the maintenance of problematic anxiety. In her free time, Carson enjoys camping, hiking, reading, and snuggling with her dogs.
Undergraduate RAs and Post Bac Interns
Elaina Beittel, UR
Elaina is a Junior majoring in Psychology and Political Science with a minor in Philosophy. She is interested in going to graduate school and pursuing a career as a Child Psychologist. Outside of research and work she enjoys reading, volunteering, and going on long wandering walks in nature.
Camryn Butze, UR
Camryn is a senior studying psychology and chemistry at the U of R with hopes of pursuing a career in pediatric medicine. She has been with the THRIVE team for two years now, and is interested in the impact of psychological stressors on physiological markers in children during developmentally critical time periods. When she is not in the lab she's thrifting around for treasures, crocheting sweaters, or playing games with friends.
Marissa Carlson, UR
Marissa is a Computational Biology major on a pre-med track and a Business minor. She is from Houston, Texas and interested in social behavioral research. Marissa is also a member of the varsity swim team and the treasurer of SA government.
Sirui (Larina) Gong, UR
Larina is currently a first-year undergraduate student who intends to major in Psychology and Brain and Cognitive Science. Her research focus is on the influence of parental styles on children's social and personality development, factors that lead to psychopathology among adolescents. One of her goals is to develop and participate in prevention programs for children and adolescents who are at risk of developing mental health issues. So far, she is still exploring this field and  excited to discover some other research interests. In her free time, she likes cooking, reading, listening to music, managing her vlog channel and especially watching musicals! She can also be found trying food and jogging outside in warm weathers.
Marissa Hendrickson, UR
Marissa is a Senior at the University of Rochester majoring in Psychology and minoring in Biology as well as Brain and Cognitive Science. Her goal is to continue her education and get a PhD in Developmental Psychology. With this she can further the understanding of human behavior from both a social and biological perspective. She is also an e-board member for the Womanist Club  and works for the food pantry at the University of Rochester. Her non-research related interests include growing my collection of nostalgic movies, spending time with friends, and painting. 
Kendal Jordan, UR
Kendal is still exploring her research interests, but has a general interest in psychopathology. More specifically how the societal pressures like racism, discrimination, and stigma experienced at a young age will lead to a heighten chance of psychological disorder in the African American community. After graduating, she wants to pursue a career in the mental health field specifically helping individuals in the LGBTQ+ community and minorities. Outside of working and research, she likes to dance and play with her pets. Recently, she has been participating in afterschool programs like Ballet Performance Group and optional shows to keep their body in shape. She also enjoys playing with my cat as a way to relax.
Ethan Kahn, UR
Ethan's broad area of interest in research is in the socio-emotional development of children in relation to adversity stemming from factors such as familial relations, socioeconomic status, and potentially traumatic experiences. In addition, he hopes to further investigate how these factors influence the development of compulsive and risky behavioral patterns that may increase the likelihood of future substance abuse as well as mental health issues. He spends the majority of my free time playing the guitar and piano and making music. He also often enjoys cooking, skiing, and finding new TV shows.
Elizabeth (Ellie) Landis, UR
Ellie is a Biology major with a Bioethics minor. She is also on the pre-medical track and am hoping to become a physician in the future. Ellie is just getting into the field of research and is excited to learn some new skills and work as a team. Outside of school, she plays water polo, enjoys music, volunteers at the hospital, and hangs out with friends and family.
Monica Lee, UR
Monica is a junior at the University of Rochester majoring in psychology and business with a minor in American Sign Language. Her research interests revolve around family dynamics and the effect parents have on children's social, emotional, and cognitive development. After completing her undergraduate degree, she intends to apply to graduate school for clinical psychology and hopes to pursue a career working with children. Outside of research, she enjoys watching sitcoms, crocheting, and spending time with friends.
Angie Lin, UR
Angie is a junior majoring in psychology and public health. She is interested in adolescent psychology and love working with children as well as adolescents' relationships with others such as families and peers. Project Flight is very aligned with her interests and hopes to continue doing research in this area in the future.
Adwaita Patil, UR
Adwaita is a senior at the University of Rochester, pursuing a B.S. in Neuroscience, a B.A. in Psychology, and a minor in Studio Art. In terms of research, she is interested in exploring child development as well as how psychiatric illnesses manifest in fMRI scans. Career-wise, the field she would love to enter is psychiatry. Outside of work, she loves creating visual art, reading, and delving into martial arts.
Evelyn Pineda, UR
Evelyn is a junior, and First-Year Fellow, at the University of Rochester, pursuing a double degree in Brain & Cognitive Science and Psychology. She is interested in researching the neuropsychological effects of trauma on children's development and the mechanics from which these traumas produce different outcomes in their emotional development. Evelyn hopes to go on to graduate school and pursue a PhD in Developmental Psychology, so she can dedicate time to research and become a child/family psychologist. In her free time, Evelyn enjoys painting, baking, pilates, and spending time with her loved ones.
Zainab Shah, UR
Zainab is a junior at the University of Rochester majoring in psychology and religion. She currently works as an RA on Project THRIVE. She is very interested in the research being conducted and interested in the psychology of child development as a whole. I plan to use my knowledge gained from this internship to help me further my experience in the field of psychology and my post grad goals.
Zishan Su, UR
Zishan is an undergraduate student majoring in Psychology and Brain and Cognitive Science. Her research interests are in the area of developmental psychology and computational neuroscience. She is planning on pursuing a PhD degree and hopefully one day she can do research in the relevant field. Outside of the lab, she really enjoys reading and swimming.
Xuezheng Wang, UR
Xuezheng is an undergraduate student majoring in Psychology and BCS, also minor in Statistics. Her research interests lie in how parents' perception of children influences children's quality and value formation and possible mechanisms beneath their perception. One of her research projects is to examine the association between the qualities parents valued on children and parents' demographic factors. In the future, she hopes to attend graduate school and continue investigating her research interests. In her free time, she enjoys skiing, K-pop dancing, traveling, staying with her cats, growing flowers and reading murder mystery novels.
Christina Zhang, UR
Christina is a Junior at the University of Rochester majoring in Health, Behavior, and Society on the Pre-Med track and minoring in Clinical Psychology. Her goal is to pursue a career in Clinical Psychology or Psychiatry after her undergraduate studies. She is particularly interested in adolescent psychology and how familial interpersonal relationships may affect development within certain minority groups, specifically within the Asian-American population. Outside of academics and research, Christina spends her free time playing music, crocheting, drawing, and spending time with her cat, Blue, and her loved ones.
Zinrui (Kerry) Zhao, UR
Kerry is currently a freshman majoring in psychology and business. She plans on pursuing a career in therapy in the future. Her research primary research interest is in better understanding interactions between people (e.g. conversations). Outside of school and research, she loves music, dance, and photography.