Overview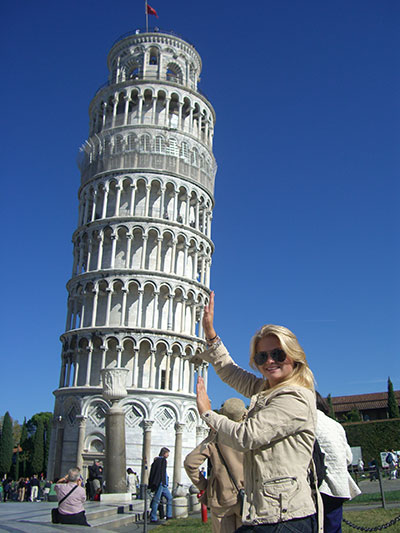 The Arnold Lisio '56, '60M (MD) and Anne Moore Lisio Italian Studies Program supports a variety of departments and programs that enhance your understanding and appreciation for the language, art, culture, and history of Italy. This unique program is made possible through the generous support of Arnold Lisio '56, '60M (MD) and Anne Moore Lisio.
The Lisio Program in Italian Studies also helps fund student scholarship prizes, summer fellowships, and faculty and program grants for multidisciplinary programs including:
The Arezzo: Lisio Italian Studies Program: A semester-long study in Tuscany in which students are immersed in academic courses, community life, cultural activities, and study-related travel. For more information, please contact Arezzo Program director, Donna Logan, at donna.logan@rochester.edu or see the Arezzo program website.
The Experiential Learning on the Island of Procida Program: A one-month sustainable study abroad course that takes place on the island of Procida, off the coast of Naples.
The San Martino Archaeological Field School: A summer program, offered by the Department of Religion and Classics, that takes place in Torano di Borgorose, a small town in the mountains of central Italy. For more information on future program offerings, please contact associate professor of religion and classics, Elizabeth Colantoni at elizabeth.colantoni@rochester.edu.
The Roman Structures Program in Italy: An interdisciplinary study of Roman engineering and architecture that places students in small group living and learning situations.*
These funds also support Italian undergraduate studies in the Department of Modern Languages and Cultures.
*The Roman Structures Program is not currently being offered.
Dorothy and Anthony Lisio Prize
In addition, the Dorothy and Anthony Lisio Prize, named in honor of Arnold Lisio's parents, recognizes excellent work related to some aspect of the study of Italian language, art, or culture. It is a monetary prize (up to $500) and is awarded by a nominating committee comprised of faculty affiliated with the Italian Studies program.
About Arnold and Anne Lisio
For more information about Arnold and Anne Lisio see: