Upcoming Events
Thursday, December 8, 2022
8 p.m.
May Room
Continue Reading
---
Friday, December 9, 2022
4 p.m.
Spurrier
Continue Reading
---
Action Circles
Second Friday of each month from 3-4 p.m.
Zoom Meeting ID: 921 4298 2745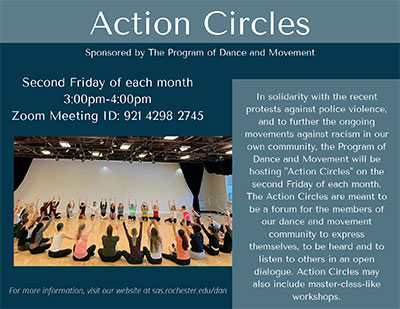 In solidarity with the recent protests against police violence, and to further the ongoing movements against racism in our own community, the Program of Dance and Movement will be hosting "Action Circles" on the second Friday of each month.
The Action Circles are meant to be a forum for the members of our dance and movement community to express themselves, to be heard and to listen to others in an open dialogue. Action Circles may also include master-class-like workshops.